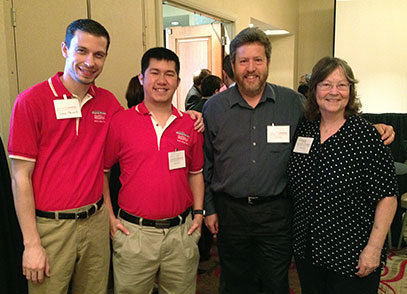 NSM On the Road: California
Enjoying the NSM alumni reception in Santa Clara, Calif., are UH game design students Sean Howard and Anthony White and NSM alumni Terry and Peggy Griffin. NSM hosted a reception for Silicon Valley/San Francisco Area alumni in mid May to celebrate the achievements of NSM's two teams competing in the MicroSoft Imagine Cup U.S. Finals. The final round of the competition was held at Microsoft's Silicon Valley Campus.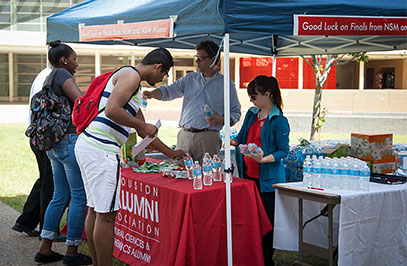 Fuel for Finals
On May 6, NSM faculty and alumni held the Fuel for Finals event for students, giving away bottled water and snacks. This was a first-time event for NSM. More than 600 students stopped by the tent.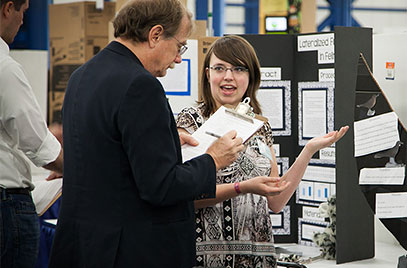 Support for Science Engineering Fair of Houston
NSM Dean Dan Wells was one of many NSM faculty and graduate students volunteering as judges for the 2013 Science Engineering Fair of Houston (SEFH). University of Houston was a presenting sponsor of the Fair this year. NSM's Mark Smith and Robert Dubois served as Executive Director and Associate Director of the Fair. With more than 1,100 middle and high school student projects, SEFH is one of the largest regional science and engineering fairs in the nation.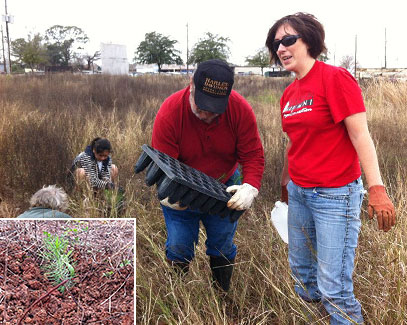 Alumni Adopt-A-Spot
NSM Alumni Association members planted more than 100 baby pine trees as part of the Buffalo Bayou Adopt-a-Spot Program. NSMAA members work four times a year on various conservation and beautification projects at the Buffalo Bend Nature Park.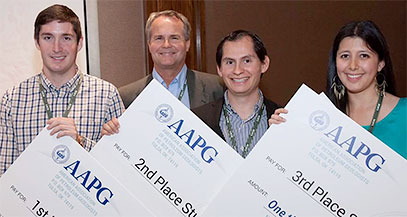 UH Students Capture Best Student Poster Prizes at AAPG
The American Association of Petroleum Geologists Student Poster Competition had 122 entries. Of the 15 students selected to compete, four were from UH's Department of Earth and Atmospheric Sciences. Winning first, second and third place (from left) were Ph.D. student, Bryan Ott ($2,000 prize); Luis Carlos Carvajal, master's student ($1,500 prize); and Lucia Torrado, master's student ($1,000 prize). Also pictured is Paul Mann, UH geology professor and thesis supervisor of all three students.