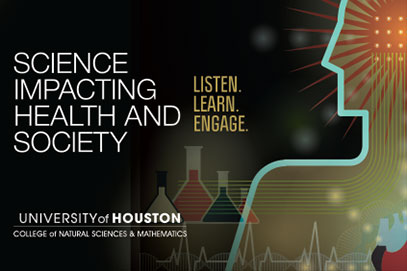 Community Lectures Cover the Theme, "Science Impacting Health and Society"
A new lecture series launched in April by the College of Natural Sciences and Mathematics is giving Houstonians an opportunity to learn how science is making a difference in health and medicine. The 2012 series focuses on diabetes, obesity, heart disease, and cancer.
The evening lectures center on the theme "Science Impacting Health and Society." Through five lectures, leading scientists and physicians are addressing breakthroughs in science that are altering the prevention and diagnosis of disease, treatment modalities, and delivery of medical care.
Each year, the series will focus on a central theme and include five-to-six lectures delivered by leading experts and eminent scholars. All lectures are on the UH campus and are free and open to the public.
"Through this annual lecture series, we want to share science breakthroughs with the community and give Houstonians a front-row seat to developments impacting medical care, energy, the environment, and daily living," said Mark A. Smith, NSM dean. "We're thrilled with the enthusiastic support for and attendance at our first two lectures."
Lectures held in April and May featured guest speakers from Harvard Medical School and University of Texas Southwestern Medical Center.
In April, Bruce M. Spiegelman, a professor of cell biology and medicine at the Dana-Farber Cancer Institute, Harvard Medical School, presented "Toward a New Generation of Therapies for Diabetes, Obesity and Muscular Disease." Spiegelman discussed his research team's recent discovery of a novel hormone secreted from muscle cells that triggers some of the key health benefits of exercise. The protein, given the name irisin, is a promising candidate for development as a treatment for diabetes, obesity and perhaps other disorders.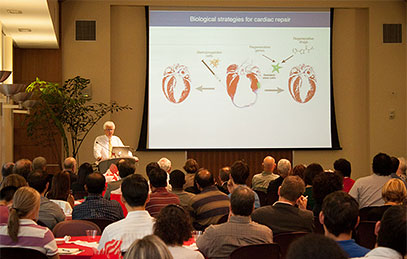 The May lecture featured Eric Olson, professor and chair of Department of Molecular Biology at University of Texas Southwestern Medical Center. Olson, known for his work identifying major genetic pathways that control the formation of the heart and other muscles, delivered "Heart Making and Heart Breaking: New Strategies for Heart Repair." He outlined recent advances in understanding the mechanisms of cardiac injury and regeneration as well as strategies for promoting cardiac repair.
The series resumes in the fall with speakers in September, October, and November. The dates, topics, and speakers are:
Tuesday, Sept. 25: "Hormones in Health and Disease," Dr. Jan-Åke Gustafsson, director of the Center for Nuclear Receptors and Cell Signaling at UH
Tuesday, Oct. 23: "Improving Prediction of Heart Attack Risk," Ioannis Kakadiaris, computer science professor and director of the Computational Biomedicine Lab at UH
Tuesday, Nov. 27: "Regenerating Damaged Heart Muscle: Using Stem Cells and Systems Biology to Discover Drug Targets," Mark Mercola, professor and director of the Muscle Development and Regeneration Program at Sanford-Burnham Medical Research Institute.
The series is associated with a new organization of generous individuals, the Friends of NSM, who support NSM's graduate education program through fellowships to outstanding Ph.D. students.

For more information on the 2012 Friends of NSM Distinguished Lecture Series, visit the series website, www.friends.nsm.uh.edu.

- Kathy Major, College of Natural Sciences and Mathematics