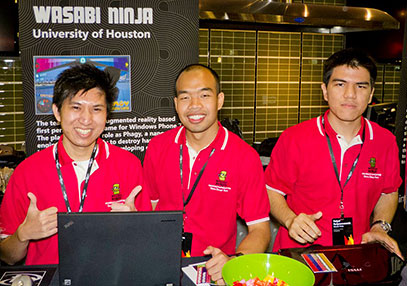 Two UH Teams Place in Top Four

Game design teams, Zigers and Wasabi Ninja, ranked in the top four at Microsoft's Imagine Cup U.S. Finals held April 20-23 in Redmond, Wash. The student teams are part of the Department of Computer Science's Interactive Game Development Program.
Team Wasabi Ninja placed third, winning $2,000 in the game design for mobile phones category, and Team Zigers won fourth place and $1,000 in the Windows/Xbox category. A third UH team, Eager Beavers PC, was also among the teams selected for the U.S. finals.
UH was the only university with three teams competing in the finals. All of the U.S. finalists received Acer laptops and Nokia Lumia phones.
More than 113,000 students registered for this year's U.S. Imagine Cup competition, and 22 teams traveled to Microsoft's Redmond campus for the finals. The 2012 competition theme was "imagine a world where technology helps solve the toughest problems."
"The achievements of University of Houston in both the U.S. and global competitions are quite well known among Microsoft officials," said Chang Yun, an instructional/research assistant professor of computer science. "The quality, number and consistent high ranking of our teams in the last three years is unprecedented."
Yun, who teaches interactive game development, mentored the Wasabi Ninja and Zigers teams. Jose Baez-Franceschi mentored Team Eager Beavers PC and teaches game art and animation courses.
In 2011, four UH teams competed in the U.S. finals, earning first and second place in mobile game design and third place in Windows/Xbox game design. Teams brought home second and third in the 2010 national competition.
Meet the UH Teams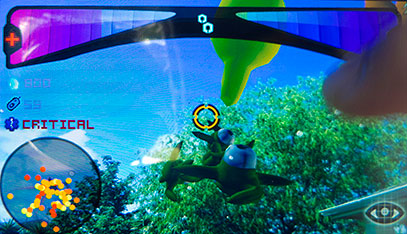 Third Place – Game Design/Mobile
Team Wasabi Ninja: Martin Le and Patipol Paripoonnanonda (graduate students) and Jackchalat Chaiyakhom and Josh Riffel (undergraduate students)
The team created an augmented reality-based, first person shooter game, Phagy, for Windows Phone. The player takes the role as Phagy, a nanomachine engineered specifically to destroy harmful materials in the water systems of developing countries.

Fourth Place – Game Design/Windows/Xbox
Team Zigers: Michael Slater, Chris Gonzales, Sin Ng and Allison Sherrick (all undergraduate students)
The team created an Xbox game, Spillville, which addresses oil spills in the ocean. The player commands 'Rapid, Ocean Hazard Responders,' a fictional organization that has been charged by the United Nations Environmental Program to clean up major oil spills.

Game Design/Windows/Xbox
Team Eager Beavers PC: Khoa Le (undergraduate student) and Hien Nguyen, Sushil Joshi and Debjyoti Majunder (graduate students)
The team created an educational shooting game, Hydrobot Adventures, featuring a highly intelligent self-powered robot, the Hydrobot, capable of restoring all ocean life destroyed by years of ocean pollution. During the game, the player learns about environmental sustainability, and the game brings to mind a vision of what the ocean environment will become in the future if people do not act now.

- Kathy Major, College of Natural Sciences and Mathematics