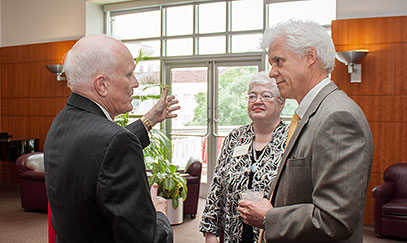 Members Support Ph.D. Fellowships
The Friends of NSM organization is new to the College of Natural Sciences and Mathematics and represents a group of generous individuals whose support is critical to the College's continued excellence.
The group's Friends of NSM Graduate Fellowship Program will fund its first Ph.D. students in Fall 2012. Students selected as Friends of NSM Fellows represent the best and brightest of NSM and embody the broad scope of research interests in the College. Through exclusive events, Friends of NSM members will meet and follow the fellowship recipients throughout their time at UH, experiencing the impact their generosity is making on the Fellows.
"The Friends of NSM Fellowship recipients are at the heart of NSM's excellence and are the reason the College can compete nationally for the top faculty, attain national support, and solve problems in our environment and society," said Mark A. Smith, NSM dean.
Friends of NSM Membership Benefits
Members receive special invitations to the following events:
Friends of NSM Lectures and Receptions
Friends of NSM Fellowship Dinner
Exclusive Friends of NSM Science Travel Trips
College of Natural Science and Mathematics Special Events
Membership Level

Friends of NSM gifts are part of the Dean's Excellence Fund and allow the College to focus on key priorities for achieving excellence in science. Through annual gifts of $5,000 or more, the generosity of Friends of NSM members is enabling NSM to increase the number of outstanding Ph.D. students entering our programs, directly impacting research productivity, faculty recruitment, and doctoral degrees awarded each year.

Each $5,000 award is invested 100 percent in a graduate fellowship to attract and retain the best graduate students.

For more information on becoming a member of Friends of NSM, contact Sherry Serio, NSM's director of development, at sjserio@uh.edu or 713-743-7678.

- Kathy Major, College of Natural Sciences and Mathematics