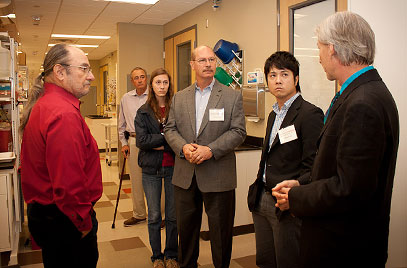 Donor Appreciation Day
NSM donors toured the Center for Nuclear Receptors and Cell Signaling after attending NSM science briefings. Donor Appreciation Day wrapped up with tailgating and tickets to the UH-Rice football game. Coogs won!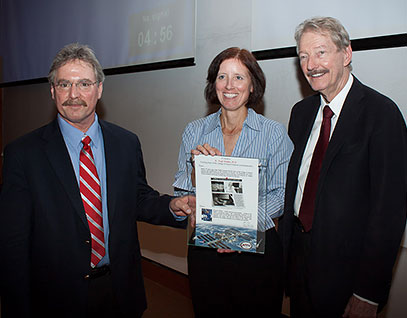 Astronaut Walker Visits NSM
Astronaut Shannon Walker presents Dean Mark Smith (left) and former Dean John Bear with a poster that flew on the International Space Station, completing approximately 4,736 orbits. The poster commemorated Walker's five-month space mission and paid tribute to her father, R. Hugh Walker, NSM's founding dean. Walker delivered a lecture on her mission to a standing-room only crowd of more than 550 UH students.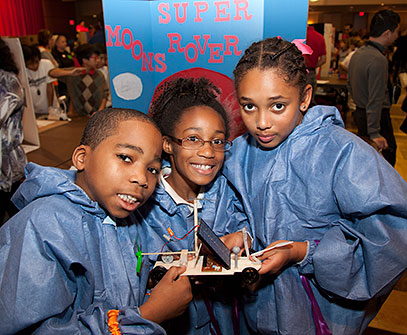 Mars Rover Celebration
More than 700 elementary and middle school students representing 34 schools participated in the Mars Rover Celebration held at UH. Spearheaded by physics professor Edgar Bering, the event is the culmination of a six-week project that involves student teams in the design of Mars rover models. NSM students volunteered as judges and tour guides for the event and several NSM faculty members participated in science demos held throughout the day.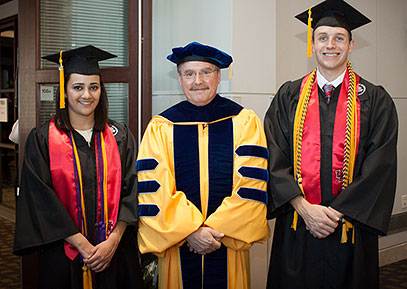 Spring 2012 Commencement
Dean Mark A. Smith with NSM 4.0 Summa Cum Laude Graduates, Wajiha Khan and Nathan Sweed at Spring Commencement. Khan majored in biology and Sweed majored in biochemistry.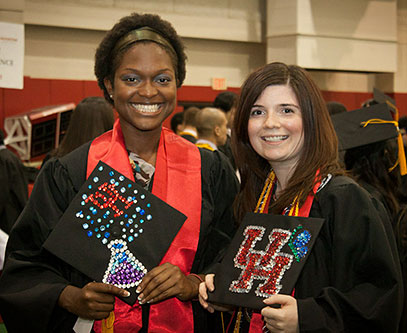 Hats Off to NSM Graduates - Spring 2012
Christina King (left, B.S. Chemistry – Cum Laude) and Katalina Serna (B.S., Biology – Summa Cum Laude) show off their creativity at Spring 2012 Commencement. King and Serna were both active in NSM's Scholar Enrichment Program. NSM had more than 500 bachelor's, master's and doctoral degree candidates in May.