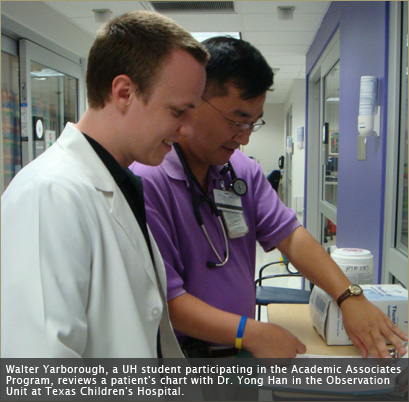 By Shannah LeDee
Natural Sciences and Mathematics Communications

University of Houston undergraduates are receiving first-hand research training in clinical emergency room medicine thanks to a recent addition to the College of Natural Sciences and Mathematics curriculum.

Known as the Academic Associates Program, this academic offering is a collaboration between NSM, Baylor College of Medicine and Texas Children's Hospital. The program exposes students to emergency medicine and clinical research, while allowing them to observe the clinical practice of emergency medicine in the Pediatric Emergency Department at Texas Children's.

"This is a rare opportunity for UH undergraduates to participate in a research training course in the Medical Center," said John Hardy, associate dean of the College of Natural Sciences and Mathematics. "One of our goals is to ensure our graduates are competitive for admission to professional schools and graduate programs as well as entrance into the job market."

The program was introduced in spring 2007 when Dr. Donna Mendez, program director and assistant professor of pediatric medicine at Baylor, approached UH. The program was accepted on a three-year trial basis.

The introductory course covers research methods, data collection and ethical issues. An advanced course, added after the first semester, focuses on research projects, writing scientific papers and developing career goals with assistance of a faculty member. This past spring nine students were enrolled in the introductory course, and seven were in the advanced course.

"This is on a volunteer basis,"Mendez said, "but it's very rewarding. The feedback we're hearing from the students has been very positive.

"They normally wouldn't get this type of experience. Normally volunteers would be stripping beds or folding towels, but this program gives students a chance to interact with patients and see physicians work in a setting they wouldn't otherwise have."

The program requires students to spend six hours every two weeks at Texas Children's, where their duties include recruiting patients in the emergency department for research.

Salman Hasan, a biology major, recently finished his second semester of the curriculum. Hasan spent his first semester focusing on paperwork and enrolling patients in an asthma study. During spring 2008, he shadowed a physician.

"This program is beneficial. I'm getting further insight into the medical field that I wouldn't otherwise get by volunteering for a hospital alone,"Hasan said. "It also shows it's more than a medical field. It shows the dynamics of the business side and how the two can intertwine."

Among the program's goals are educating students about research methods and concepts, collection of data and obtaining informed consent. It also aims to expose students in the field to other medical professions – pharmacy or respiratory therapy, for example – which they wouldn't otherwise be aware of and show them what the research staff does.

"It's a great program for them, and it's a great program for us,"said Troy Bush, the program coordinator for Texas Children's. "I think they're getting what they wanted out of the program: exposure to the emergency room and what it is to do research."

Mendez is hopeful for the program's success.

"This program is a great opportunity for students. It's incredibly beneficial,"she said. "Students learn about clinical research and become actively involved in the various clinical studies. But they also get letters of recommendation. It will be another three to four years to see if this program comes to fruition and see where the students land."