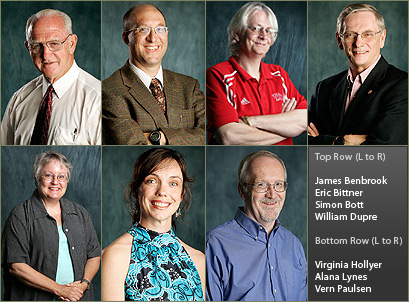 Seven faculty members of the College of Natural Sciences and Mathematics were among this year's winners of the University of Houston's most prestigious faculty awards for their accomplishments in teaching and research.

The 2008 awards were announced in May and the professors competed against nominees from colleges and departments throughout the university. NSM faculty won seven of the 16 awards – more than any other college.

James Benbrook, professor of physics, and William Dupre, geology professor, both won the Provost's Core Teaching Excellence Award, which recognizes outstanding teaching in core curriculum courses.

Benbrook teaches Modern Electronics for Physicists, a course he created and which is almost always full to capacity. He describes it as a place where "students learn which end of the soldering iron to hold."

In a letter of support, one student wrote "He is creative, hard-working, enthusiastic, good-natured and, above all, an excellent teacher.

Students in the Geology 1330 class Dupre teaches are mostly non-science majors. "These students can be a challenge to teach," he said. "I work hard to show them how science is important in every phase of their lives."

Benbrook and Dupre will each receive a trophy and a $5,000 prize.

Eric Bittner, associate professor of chemistry, received the Excellence in Research and Scholarship, which is given to faculty members who have achieved a substantial record of outstanding research, scholarship or creative activities in their field.

His nomination form states that Bittner "distinguished himself nationally and internationally as an insightful and creative scientist…emerging as a leader and innovator in the field of theoretical chemistry."

The award carries a $5,000 stipend and a plaque.

Simon Bott, director of undergraduate affairs in the chemistry department, received the Provost Faculty Advising Award. Bott's enthusiasm for chemistry has been described as infectious. Since becoming undergraduate director five years ago, the number of chemistry majors has tripled from 100 to 300, and UH now has the second-largest number of chemistry majors in the state.

Off campus, Bott is known for his unwavering support of the chemistry profession – serving as a national councilor for the American Chemical Society – and for his outreach to local public schools.

Virginia Leigh Hollyer, a mathematics instructor, won the Instructor/Clinical Teaching Excellence Award. Hollyer views students as capable explorers and herself as an experienced guide.

"I'm a guide, not the math goddess," she said. "I also believe that my students have much to teach me. I love visiting with them by e-mail, during conference hours or after class. By listening to their thoughts about the material, I learn how to teach more effectively."

Hollyer, who has been at UH for 31 years, embraces technology to keep students working and learning in an involved way.

Alana Lynes, a graduate student who serves as a teaching assistant in an upper-level genetics laboratory in the Department of Biology and Biochemistry, received the Teaching Excellence Award for Graduate Teaching Assistant.

Lynes devotes four to six hours per week to individual tutoring and review sessions, far exceeding the offerings of any past or present teaching assistant in the department. In these help sessions, Lynes employs multiple teaching strategies to address the unique learning styles that exist among her students.

Vern Paulsen, a mathematics professor, received the Teaching Excellence Award.

Hailed by one of his colleagues as one of the most popular professors in mathematics, Paulsen's classes typically attract nearly twice as many students as other graduate courses.

"Lectures should be like a good workout," Paulsen said. "They should start at a pace and level that every student should easily follow. Then, after the warm up, the pace should be comfortable while still pushing the B students, but throw in a couple wind sprints so only the A students can keep up."

To learn more about the faculty winners, go to http://www.uh.edu/uhtoday/2008/facultyawards/index.html.