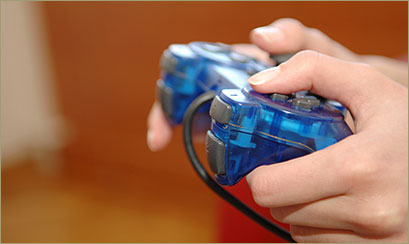 By Rolando Garcia
Natural Sciences and Mathematics Communications

When Wesley Barta tells people what he does for a living, it rarely fails to elicit a "that's so cool!"

Barta, a game development engineer and 2008 University of Houston computer science graduate, achieved what is perhaps every teenage boy's dream job when he was hired in June by a Houston firm that works on some of the world's most popular video games.

His success highlights both the burgeoning opportunities in the gaming industry and how the university is equipping computer science students to excel in this increasingly lucrative field.

Last fall the computer science department debuted a new course on interactive game development that teaches students the fundamentals of game programming and graphics. The course's two dozen slots filled immediately after registration was opened, and the advanced class in the spring proved just as popular.

For Barta, a lifelong game enthusiast who grew up playing Legend of Zelda and Super Mario Bros., signing up for the class was a no-brainer. In the class he gained valuable experience developing a game from start to finish, working on all aspects ranging from graphics to programming to sound.

"It gave me a really good overview of the whole game development process and the game industry," Barta said.

A game that began as a class project by Barta and three other students was among the finalists in an international gaming competition that featured some of the world's brightest young techies.

The team finished in the top 20 of the Imagine Cup, a competition sponsored by Microsoft that draws thousands of the world's top computer students who vie in several software categories, including game development.

The theme of this year's competition was creating a sustainable environment, so Barta, Jonathan Green, Sam Larbi and Richard Giliam – all computer science students – crafted a game called Ozone Riders in which players compete to close ozone holes and power their space ships with solar energy.

The game evolved from the team's idea for a class project in which opposing players would try to shoot down each other's space ships. The group added environmental objectives to the game to qualify for the competition and now players must balance closing ozone holes with shooting down opposing players.

Graphics was one of the game's strong points, Giliam said, with much attention going into the visually stunning rotating looking globe that forms the backdrop of the game.

The skills honed by the game class and the competition also proved to be valuable career training for Giliam. Like Barta, he was hired this year as a game developer by Pi Studios, a Houston company involved in popular games such as Wolfenstein, Quake and Rock Band.

Giliam considers his new position a dream job.

"Game development has driven my interest in computer science, and it's the reason I got into programming as a kid," Giliam said.

With video game sales surpassing Hollywood box office receipts, the new courses help prepare students for growing job opportunities in game programming and graphics, said Olin Johnson, a computer science professor who taught the class.

The classes, which are open to both undergraduate and graduate students, will become part of the department's regular course offerings, Johnson said.

The success of Barta, Larbi, Giliam and Green in the Imagine Cup was especially encouraging considering they were among the game development course's first batch of students, Johnson added.

Larbi received his master's degree in computer science this year, and Green graduated in May with a bachelor's degree in computer science.