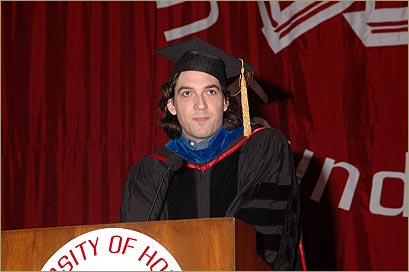 By Rolando Garcia
Natural Sciences and Mathematics Communications

For making a difference in the classroom and connecting with students, Thomas Lapen, an assistant professor of geology, received the College of Natural Sciences and Mathematics' highest teaching award.

Lapen was honored with the 2008 John C. Butler Excellence in Teaching Award and was recognized at the college's May commencement, where he addressed graduating students.

The annual award recognizes NSM faculty who best engage and challenge their students and who share their enthusiasm for the subject matter they teach.

Like the other nominees this year, Lapen had glowing reviews from both students and colleagues, but what made Lapen stand out was his stringent grading, said William Dupre, an associate professor of geosciences who served on the selection committee.

Tough-grading professors are not always the most popular, Dupre said, but Lapen got rave reviews from students despite being relatively stingy with A's.

"Students are saying that as tough as (Lapen) is, they think he's a great teacher," said Dupre, who was the 2007 Butler award winner.

Lapen, who joined UH in 2005, was also the youngest of this year's nominees. While it can be tempting for young faculty vying for tenure to focus mostly on research, Lapen's commitment to teaching shows that young faculty can excel in both, Dupre said.

Lapen received his Ph.D. from the University of Wisconsin in Madison and his undergraduate degree from Central Washington University.

The award is named after a former dean of the college. Butler was an innovative teacher who was devoted to his students and to making a difference in the classroom. He served as a role model to other professors in the college and set the bar high for teaching excellence, Dupre said.

The award selection committee is comprised of one faculty member from each department in the college, which reviews recommendation letters and student evaluations. The winner receives a $1,000 salary increase.

The committee looked at several outstanding nominees revered by students for their passion and effectiveness in the classroom, Dupre said, indicating the enormous strides in research by NSM faculty have not come at the expense of teaching.

"Despite the demands of research, there's still a lot of great teaching happening here," he said.