Student Organization Receives National Award for STEM Diversity
Recognized for Chapter's Student Support Activities
The University of Houston chapter of the Society for the Advancement of Chicanos/Hispanics and Native Americans in Science (SACNAS UH) was recognized with the 2022 Role Model Chapter: STEM Diversity Award from the SACNAS national organization for outstanding STEM diversity. The award was presented at the 2022 SACNAS National Diversity in STEM Conference in San Juan, Puerto Rico.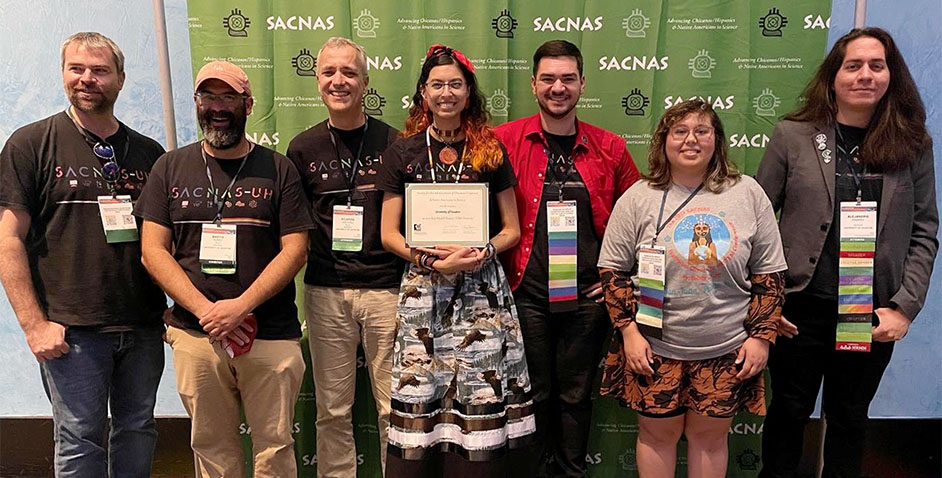 SACNAS is an inclusive national organization dedicated to fostering the success of diverse scientists, from college students to professionals. It helps these individuals obtain research opportunities and pursue advanced degrees, careers and leadership opportunities in areas of science, technology, engineering and math.
A Resource for Student Success
The mission of the UH chapter is to celebrate, support and encourage true diversity in STEM while supporting students in their goals. A key effort of SACNAS UH is to provide a support system for underrepresented STEM students, especially freshmen.
"The goal is to help these students survive their first year by making them aware of the campus resources available to them," said Greg Morrison, SACNAS UH faculty advisor and assistant professor of physics at the College of Natural Sciences and Mathematics. "We want to make sure there's also a pipeline of underrepresented students going into graduate careers."
SACNAS UH also focuses on three different types of activities throughout the year.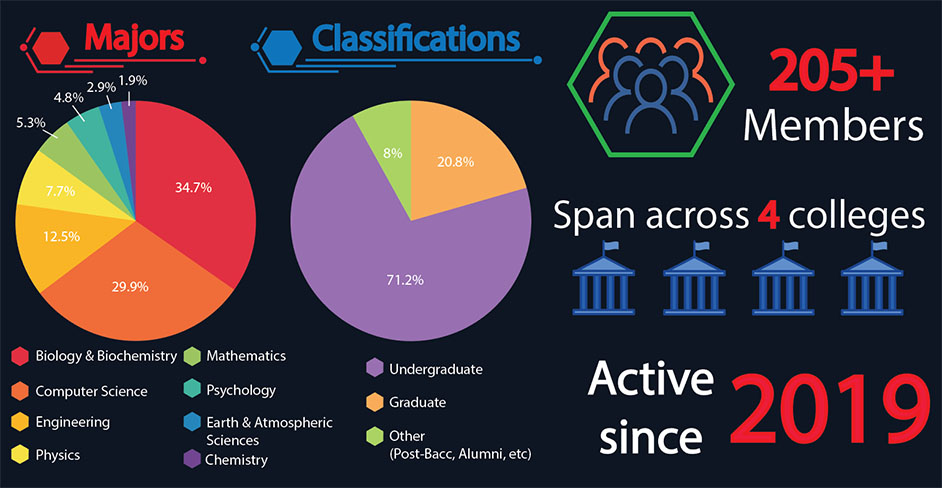 The chapter is highly involved in events that celebrate the culture and backgrounds of its members, such as Cultural Taste of Houston and Asia Fest that take place on campus. It is also involved in professional development opportunities that foster students in career development, such as a STEM scholarship program, freshman/transfer mentorship program, and STEM graduate school mentorship program.
Another major area of involvement includes outreach events, such as oral history discussions with local professors outside of UH who support the mission of increasing support for minority science students in the greater Houston area.
SACNAS UH also visits area public schools, such as Navarro Middle School and Chavez High School, to identify STEM challenges and provide resources to a diverse group of students who express interest in a STEM learning path. "It's very significant for us to go to these schools because it gives the students a new perspective on STEM," said Lorissa Saiz, president and founding member of SACNAS UH.
Supporting Students in College and Beyond
The 2022 Role Model Chapter: STEM Diversity Award was based on the UH chapter's accomplishments and activities during the 2021-22 academic year. In the award notification, SACNAS national leadership cited the UH chapter's efforts as "exemplary of the type of accomplishments and activities that are in line with the SACNAS mission."
SACNAS UH was chosen from a pool of over 100 applicants nationwide. The chapter's application included quotes from members who explained what SACNAS means to them, a support letter from faculty advisors, and support letters from public school teachers connected to SACNAS UH through community outreach projects.
"We began the award application process with a cover letter to the national chapter from our leadership and included photos from various events in which we participated," said Saiz, who is a graduate student in the Department of Biology and Biochemistry. Her studies are part of the department's Division of Cell and Molecular Biology program.
Growing Diversity in STEM
Since its formation, the local chapter has grown to over 200 members made up of mostly undergraduate students from NSM and three other UH colleges. Besides undergraduates, participant groups also include graduate students, post-baccalaureate students and alumni.
The SACNAS UH chapter was spearheaded by Andrew Hamilton, former NSM associate dean, who became inspired after attending the 2018 SACNAS national conference.
"He (Hamilton) asked all of the NSM faculty if they knew any outstanding Hispanic students conducting research who would be interested in submitting an abstract for this conference," said Saiz. Ultimately, she was one of several students picked to submit an abstract.
Her experience at that national SACNAS conference was life-changing. "I had never been in a space where my culture and my science could coexist," she said.
Making a Difference
SACNAS UH is guided by a dedicated team of NSM faculty members serving as faculty advisors. They became involved with the program because they recognized the underrepresentation of minorities in STEM and wanted to make a difference.
Faculty advisors include Morrison and Ricardo Azevedo and Martin Nuñez of the Department of Biology and Biochemistry. Also from the Department of Biology and Biochemistry are co-faculty advisors Amy Sater, professor and chair, and Tony Frankino, associate professor and associate chair for undergraduate affairs.
Chris Guillory, College of Natural Sciences and Mathematics