Carlos R. Ordonez Receives American Physical Society's Edward A. Bouchet Award
Recognized for Research and Advocating Diversity in Physics
Carlos R. Ordonez, professor of physics, is the recipient of the 2023 Edward A. Bouchet Award presented by the American Physical Society (APS). He is being recognized not only for his research, but also for his work as an advocate for the advancement of physics in Latin America as well as the Hispanic community in the U.S.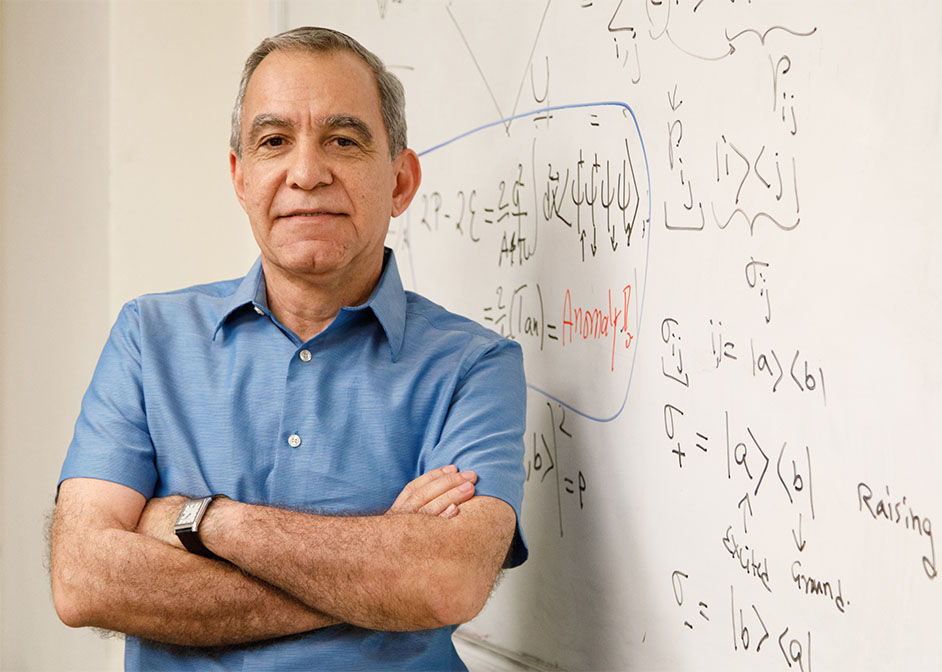 The Bouchet Award promotes the participation of underrepresented minorities in physics by identifying and recognizing a distinguished minority physicist. Ordonez was nominated by a peer for the 2023 award.
Opening Doors for Others
Ordonez has been teaching at UH since 1997. During that time, he received two other major awards from APS. In 2009, he was honored with the APS John Wheatley Award and was recognized the same year as an APS Fellow for his dedication to physics research. He takes great pride in his work and how he has helped open doors for others who lacked opportunities to achieve their goals and advance in their research.
"Here at UH, I ran a post-doc center that brought Ph.D. graduates over from Latin America to work with local prominent scientists," said Ordonez. "My work has allowed my students to use their training to advance into very fulfilling careers in academics or industry."
As one of the founding members of the National Society of Hispanic Physicists, Ordonez credits his approach to physics and to teaching from his mentor, Nobel Prize winning physicist Steven Weinberg.
International Partnership
Ordonez has also been instrumental in an international partnership between UH and The Abdus Salam International Centre for Theoretical Physics (ICTP), based in Italy. The organization, dedicated to advancing science in the developing world, trains a select number of students from around the world as part of its mission to further scientific research.
"Students participate in rigorous courses over a span of nine months, which is followed by a thesis," Ordonez said. As a result, students who advance through the program are in high demand globally from academic institutions.
"UH is honored to be one of the few campuses in the world that has consistently enrolled ICTP students to support research efforts locally," he said.
Making an Impact
As an award recipient, Ordonez's work and career development will be publicized among the physics community, particularly among physics minority students. Additionally, Ordonez will receive a $5,000 stipend, along with travel assistance to an upcoming APS meeting where he will receive the award and give a presentation.
He will also conduct up to three additional talks at academic institutions where the impact of the visit on minority students would be significant. The visits will allow Ordonez to deliver technical lectures or lectures about physics, visit classrooms when appropriate, assist UH in pre-college outreach efforts, and talk with both faculty and students about research and teaching careers in physics.
The Edward A. Bouchet Award was established in 1994 by the APS Committee on Minorities in Physics and supported for 18 years by the Research Corporation, a private foundation for the advancement of science and technology. Any Black, Hispanic, or Indigenous person, who has made significant contributions to physics research and is an effective communicator, is eligible. The award is not limited to physicists currently active in research.
"It's a tough competition to be nominated," Ordonez said. "I was surprised by the announcement but honored to receive this prestigious award."
Chris Guillory, College of Natural Sciences and Mathematics