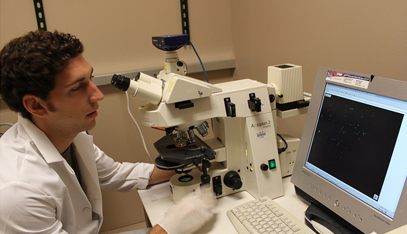 Researching how heart cells develop is not typical summer fare for most college students, but biology senior John Harger spent his vacation toiling in a biochemistry lab on work that could one day repair damaged hearts.
Harger was among several top NSM undergraduates who got a taste of cutting-edge research this past summer as part of UH's Summer Undergraduate Research Fellowship Program. It provides an intense, 10-week research experience under the mentorship of a faculty member.
However, Harger's hands-on research experience has not been limited to the summer. Since January he has been working under Robert Schwartz, Cullen Distinguished Professor of Biochemistry. Schwartz, one of NSM's most prominent recent faculty hires, is pioneering a method to turn a patient's own skin cells into beating heart cells. The heart cells could then be implanted in heart attack patients to repair damaged cardiac tissue.
To turn a skin cell into a stem cell and then into a cardiac cell, Schwartz treats the cells with a series of proteins. Harger's work focuses on understanding the mechanism for how those proteins – known as transcription factors – determine a cell's development. In particular, Harger is looking at one of those proteins – ETS-2 – and isolating the specific DNA it binds to.
He works up to 15 hours a week in the lab in addition to his regular class load, but Harger says getting involved in research as an undergraduate has been an invaluable experience.
Harger, who will graduate next spring, is basing his senior thesis on this research and will also present his work at UH's annual Undergraduate Research Day in October. As a SURF participant Harger received a $3,500 stipend.
He plans to attend medical school after graduating from UH.