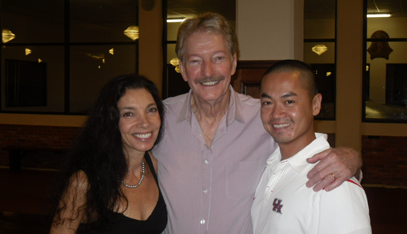 From left to right: John Bear and wife Gigi with NSM Alumni Association President Danny Nguyen at Saint Arnold's Brewery on August 14.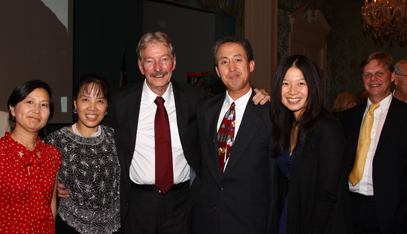 From left to right: Dean Bear with former Ph.D. students (l to r), Zhaoxue Wu, Yulan Li, Shurong Huang, Wei Deng (Li's daughter) and Eric Van Caembelbec at his tribute dinner on August 7.
Dean John Bear, who is stepping down as head of the College of Natural Sciences and Mathematics, was honored for his decades of leadership at two festive events last month.
On Aug. 7, more than 120 faculty, former students, family and friends gathered at the Junior League ballroom to pay tribute to Bear's unprecedented 35 years as department chair and then NSM dean. UH President Renu Khator kicked off the evening with welcoming remarks and B. Montgomery Pettitt, Cullen Distinguished Professor of Chemistry, served as the event's emcee.
After dinner, tribute speakers shared how Bear shaped their professional and personal lives while driving research progress at UH. Robert Howard, one of Bear's former Ph.D. students, discussed working in the lab of then-Professor Bear, a caring mentor to the students he supervised.
Chemistry Professor Karl Kadish spoke of Bear's 17 year tenure as department chair, when he built a world-class chemistry program and made it one of UH's most prestigious departments. And Art Vailas, former UH vice president for research and currently president of Idaho State University, shared how Dean Bear recruited him to UH and how they forged a pivotal partnership to advance research at UH.
The following week, Bear was honored by the NSM Alumni Association at the their annual dinner held at Saint Arnold Brewery. More than 80 alumni, faculty and friends gathered for barbecue, beer and light-hearted stories about Bear from Professors Stuart Dryer, John Hardy and Pettitt.
A special thanks to NSMAA board members Danny Nguyen, Ivy Nguyen and Teri Garrett for their hard work to make the event a success.