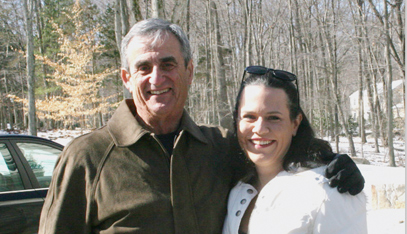 A colorful and well-respected University of Houston mathematics professor, whose sudden death in 2008 stunned friends and colleagues, will be remembered with a new endowed fellowship benefitting math graduate students.
The Michael Friedberg Endowed Graduate Fellowship in Mathematics will commemorate the late professor's passion for teaching. Friedberg died at home unexpectedly of a heart attack in Sept. 2008 at age 69. He had been on the UH faculty for 41 years and showed no signs of slowing down.
"He was so dedicated to teaching, I knew he would never retire," said Lorraine Coats, Friedberg's daughter. "I always assumed he would die in front of a classroom."
Friedberg earned teaching excellence awards at both the college and university level, and in recognition of his dedication to students the fellowship will be awarded to an outstanding graduate student who tutors undergraduates at the math department's Center for Academic Support and Assessment (CASA).
Friedberg was popular with students, but not because he gave out A's, said Jeff Morgan, chair of the math department.
"He set high standards and expected a lot from his students, and they still loved him," Morgan said. "They knew he had their interests at heart."
He was a native of New York City, but Friedberg was a true Texan. He was an avid country-western dancer and loved his cowboy boots – he was even buried in his favorite pair.
When not cutting a rug, Friedberg was busy with local Mensa and Sierra Club groups. He was a lifelong learner with wide-ranging interests, reading and collecting dozens of books on Civil War history and even earning an MBA from UH in 1984.
"You wouldn't want to play trivial pursuit with him, because he'd always win," Coats said.
The $50,000 endowment was funded last month by a donation from Coats and a matching gift from UH. Memorial gifts from Friedberg's friends and family will be used to award the first $2,000 fellowship.