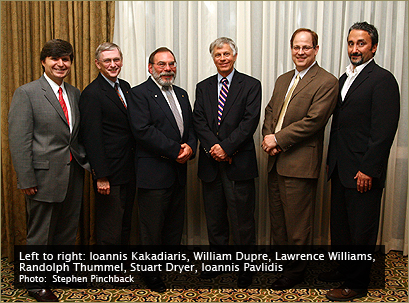 For making a difference in the classroom and connecting with students, two professors received the College of Natural Sciences and Mathematics' highest teaching award.
Randolph Thummel, professor of chemistry, and William Dupre, associate professor of geosciences, were awarded the 2007 John C. Butler Excellence in Teaching Award and were recognized at the college's May commencement.
The Butler award is typically given to one faculty member, but this year the selection committee had two nominees with long track records of engaging students and sharing their enthusiasm for the subject matter they teach.
"It would've been a crime to pick just one," said Randy Lee, Hugh Roy and Lillie Cranz Cullen Distinguished Professor of Chemistry, who headed the selection committee. "They both had a long history of successful teaching."
The committee, which is comprised of one faculty member from each department in the college, reviews nomination letters and student evaluations.
Thummel and Dupre received rave reviews from students for their effectiveness in the classroom.
The award is named after a former dean of the college. Even as the faculty makes enormous strides in scientific research, the award underscores the college's commitment to teaching, said Stuart Hall, associate dean.
"We are a university and educating students is our central mission," Hall said.
Dupre and Thummel were recognized along with other distinguished faculty at the college's Tribute to Scholars, Leaders and Partners in Excellence dinner in April.
Among the honorees were Ioannis Pavlidis and Ioannis Kakadiaris, both of whom were named Eckhard Pfeiffer Professors last year. The prize was created by Pfeiffer – the retired CEO of Compaq Computer and a member of the NSM Dean's Advisory Board – to reward the college's most distinguished computer science faculty.
The honor was intended for one faculty member, but both Kakadiaris and Pavlidis had such outstanding records in research that the award was split. Each will receive $25,000 annually.
The Tribute to Scholars also recognized NSM professors who won university-level faculty awards in 2006.
Stuart Dryer, John and Rebecca Moores Professor and chair of biology and biochemistry, received the 2006 Excellence in Research and Scholarship Award, and Lawrence Williams, visiting assistant professor of biology and biochemistry, received the George Manger Faculty Award for Excellence in Undergraduate Advising.
Both Dryer and Williams competed against faculty nominees from colleges and departments across the university.