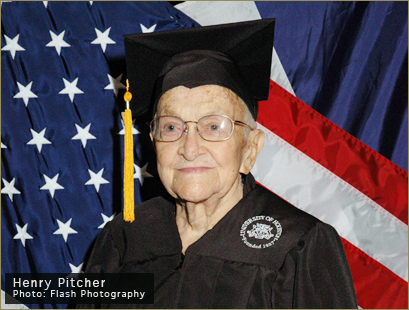 Henry Pitcher donned a cap and gown to receive his sheepskin from the University of Houston in May, completing a quest he began 75 years ago.

He first pursued a college degree by enrolling in 1932 at Virginia's Washington and Lee University to study engineering. Two years later the Great Depression forced him to drop out and go to work. He worked for M.D. Kellogg, now part of Halliburton, and traveled extensively as head of the company's foreign construction operations.

Pitcher, 92, moved to Houston more than 30 years ago and in the late 70s and early 80s began taking classes off and on at UH. Last fall Pitcher contacted the Department of Mathematics to find out how many courses he had left to graduate and was prepared to take the bus from his apartment to take classes.

Because documents about Pitcher's transfer credits were archived, administrators had to do quite a bit of research and coordination with math and other departments on campus. In the end, they determined that Pitcher had enough hours for his degree.