Cricket, afternoon tea, and potentially groundbreaking research are on the agenda for one University of Houston chemist who is headed to England for a semester after receiving one of the world's most coveted academic awards.

Research in dynamics of electron transfer between organic molecules has captured a Guggenheim Fellowship for Eric Bittner, an associate professor of chemistry who joins an illustrious group of past recipients.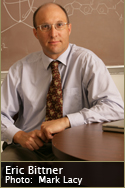 He was among 189 scientists, artists, and scholars named 2007 Fellows by the John Simon Guggenheim Memorial Foundation. Bittner was one of only two chemists in North America selected for a fellowship this year.

Bittner's fellowship will allow him to spend part of the 2007-2008 academic year at Cambridge University, where he will work with Sir Richard Friend, a physics professor and pioneer in the field of polymer optoelectronics.

The foundation appoints Fellows based on past distinguished achievement and exceptional promise of future accomplishment.

"The list of Fellows is a list of the most outstanding members of almost any academic, scientific, or artistic field. I'm quite honored and humbled to be included on that list," Bittner said.

Previous winners include Linus Pauling, 1954 Nobel Prize winner for chemistry, as well as such household names as Ansel Adams, W.H. Auden, Aaron Copland, Martha Graham, Langston Hughes, Henry Kissinger, Philip Roth, and Eudora Welty.

"We had a bit of a celebration," Bittner said of his family. "My two boys will likely attend part of the third grade in the United Kingdom, which will be an awesome experience for them. They're already learning to play cricket."

John L. Bear, dean of the UH College of Natural Sciences and Mathematics, said receiving the award reflects favorably on Bittner, the college, and the university.

"To receive a Guggenheim Fellowship when only two were given in the U.S. and Canada for chemistry is a true honor for Eric, and it also speaks highly of the caliber of faculty in the College of Natural Sciences and Mathematics and UH," Bear said.

Bittner, 41, came to UH in 1997. He earned a bachelor of science in chemistry and physics at Valparaiso (Indiana) University and a Ph.D. in chemistry from the University of Chicago.