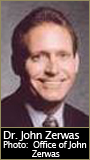 Dr. John Zerwas, an anesthesiologist and University of Houston graduate, was elected to the Texas House of Representatives last November and completed his first legislative session in May.

Zerwas, R-Richmond, is the only physician currently serving in the House and is the senior vice president and chief medical officer of the Memorial Hermann Healthcare System in Houston. He has been affiliated with Memorial Hermann since 1985 and was appointed to his current post in 2003. Zerwas received his medical degree from Baylor College of Medicine.

He represents District 28, which includes portions of Fort Bend, Wharton, and Waller counties.