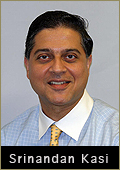 Srinandan Kasi, an Associated Press executive and NSM alum, delivered the May commencement address to more than 500 graduates of the College of Natural Sciences and Mathematics.

Kasi, AP vice president and general counsel, is a native of India and earned a doctorate in chemistry from UH. He worked as a research scientist at IBM where he was involved in chip design and microelectronics and holds four patents. Kasi became a lawyer after graduating from Columbia University Law School.

He now oversees legal activities and global business initiatives for the New York-based news organization. Before joining AP Kasi worked at a law firm handling corporate finance matters like mergers and acquisitions.